Hiiii! It's been a while, but I'm back! Coming to you with my spontaneous playroom face lift, with a little holiday mixed in! I'm so happy with how this room turned out & so excited for a fresh space for my kiddies! Hope you love it as much as we do!
SOFA: This tufted, symmetrical sectional is perfect for a playroom. The cushions do not lose shape or move around, so there is minimal "fixing" (minus the throw pillows), but at the same time, is so so comfortable. The cream, velvet material is so soft. The fabric is ideal – if anything spills (which ironically was my coffee the first time), all you have to do is use a wet paper towel & it comes right out. For an added layer of protection, I would recommend using scotch guard, which if you aren't familiar, is a product you can spray on clothing or furniture to help prevents stains. It works REALLY well! You can buy it at Target and usually any major grocery store. Also, THE BEST PART: this sofa is IN STOCK & is ready to be shipped immediately! I literally ordered mine on a Thursday night, and it was in our playroom on Wednesday morning!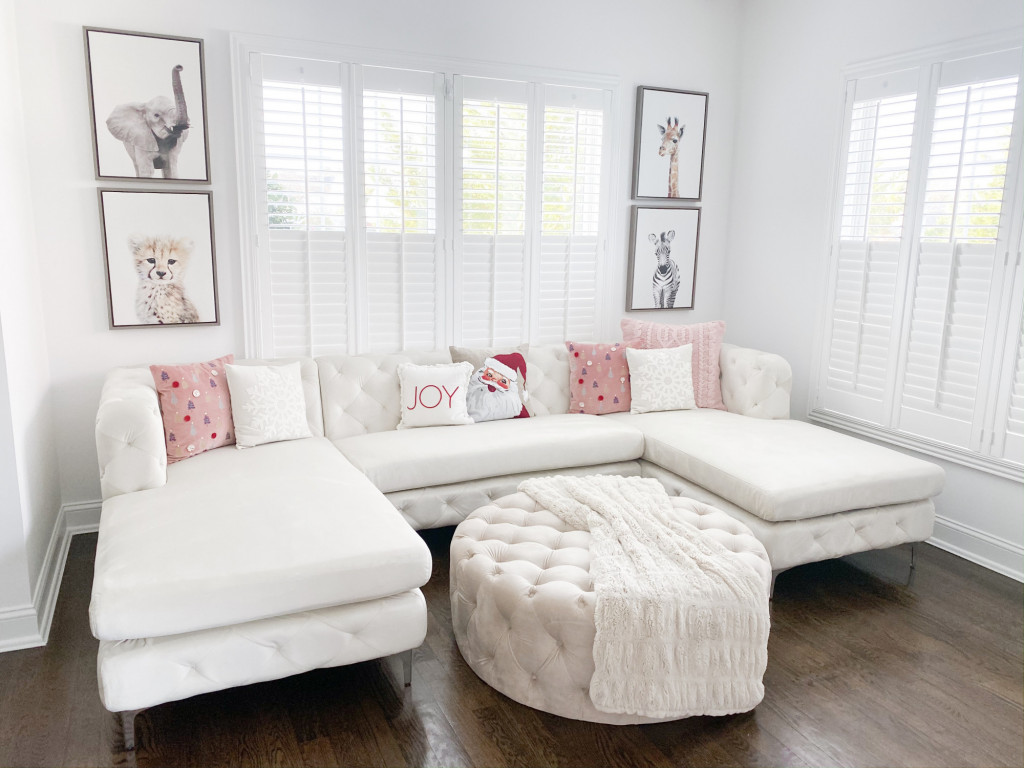 ANIMAL PICTURES: I'm sure you've seen this style of wall art before – the "animal" theme has been popular for a while, but the price point is always a little high because you would most likely want/need more than just one. Well, I was so excited when I came across these. The elephant, cheetah, giraffe, & zebra are my favorite. Not only can you not beat the price, but the quality is so so amazing. Out of everything we purchased for our "playroom makeover," I was most excited and pleased with these. And, as an added bonus, the frames match the color of the play table perfectly!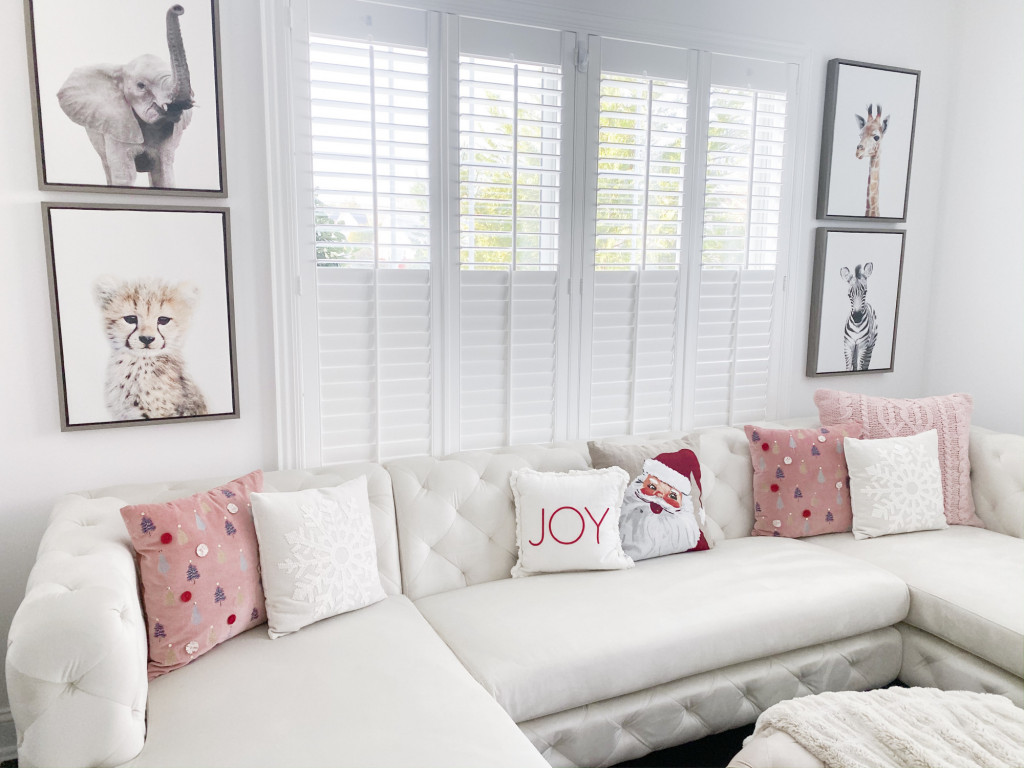 OTTOMAN: This tufted, round ottoman is from a completely different store, but the color, material, and quality makes this a perfect match. The size is substantial and fits the space well between the two larger parts of the sectional. It also stands about four inches lower in height, but that seems to work well for us (& our dogs that have claimed this as their new spot).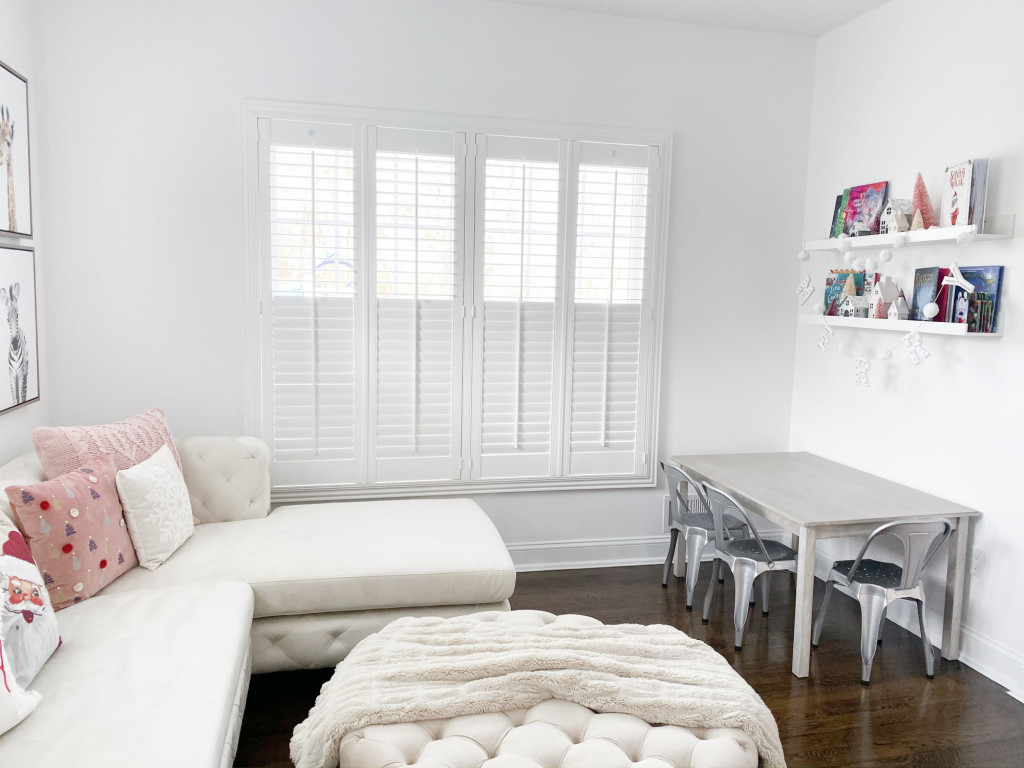 PLAY TABLE: We have been in need of this large play table for some time, and I could not be happier with it. The "brushed fog" color is such a great neutral, matches our home so well, and is so much more interesting than the typical white. (use code "WEEKEND" for 25% off this Saturday & Sunday)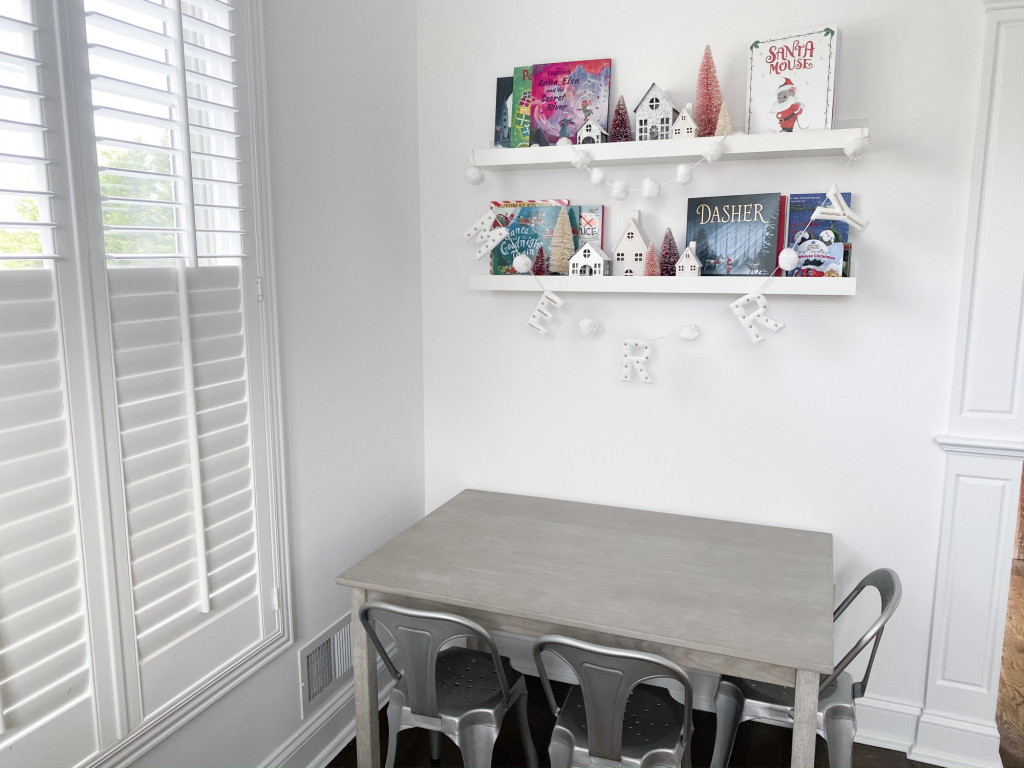 SILVER CHAIRS: These metal play chairs are a little pricey, but I love the "galvi" color mixed with the color of the table. They are made so well, and I know that they will last for years to come. (use code "WEEKEND" for 25% off this Saturday & Sunday)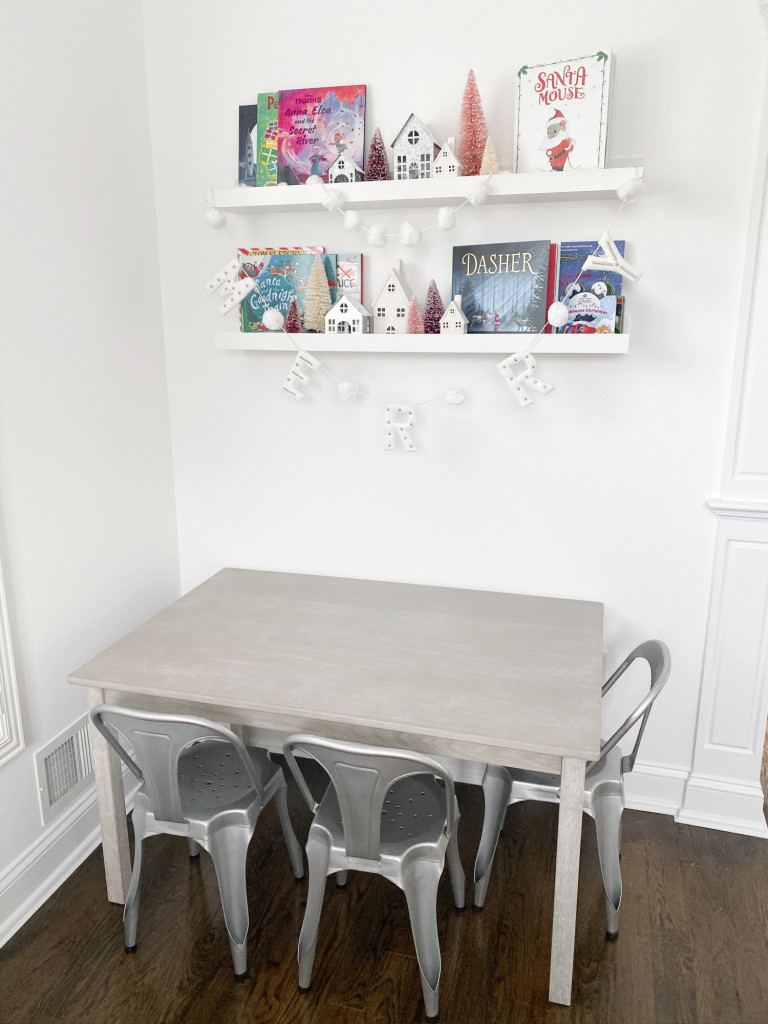 WHITE BOOKSHELVES: These white, wall shelves were just a basic upgrade that we really needed – older kids, bigger books, and more space for Mama to decorate! 🙂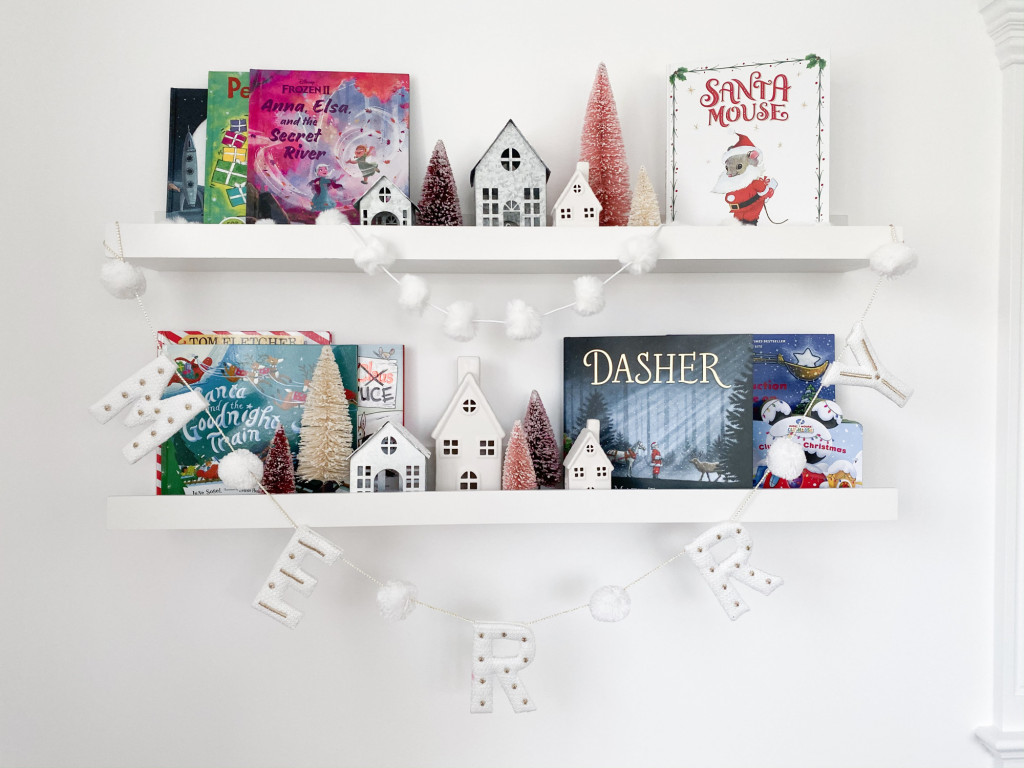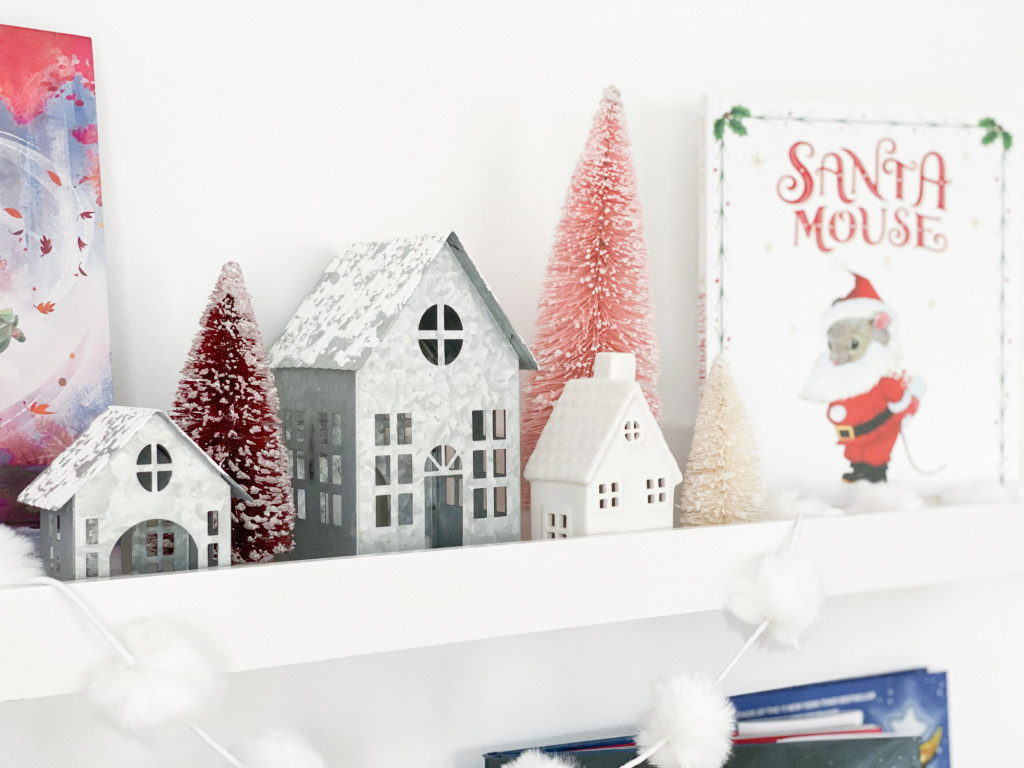 THROW PILLOWS: SANTA – BLUSH W/ MINI CHRISTMAS TREES – BLUSH CABLE KNIT – SNOWFLAKE – "JOY" – All of these are from one store, and I AM TELLING YOU the coloring & quality was such a sweet, refreshing surprise! I love this combination of throws because minus "Santa" & "JOY," I can leave out the rest even after the holiday as just our "winter" pillows. The blush, cable knit throw is THE SOFTEST chenille fabric & an absolute must have! I even bought three more for my family room (which I will be sharing next week!) This particular pillow comes in SIX different colors & is on sale right now for less than $30! Go, run, while they are still in stock!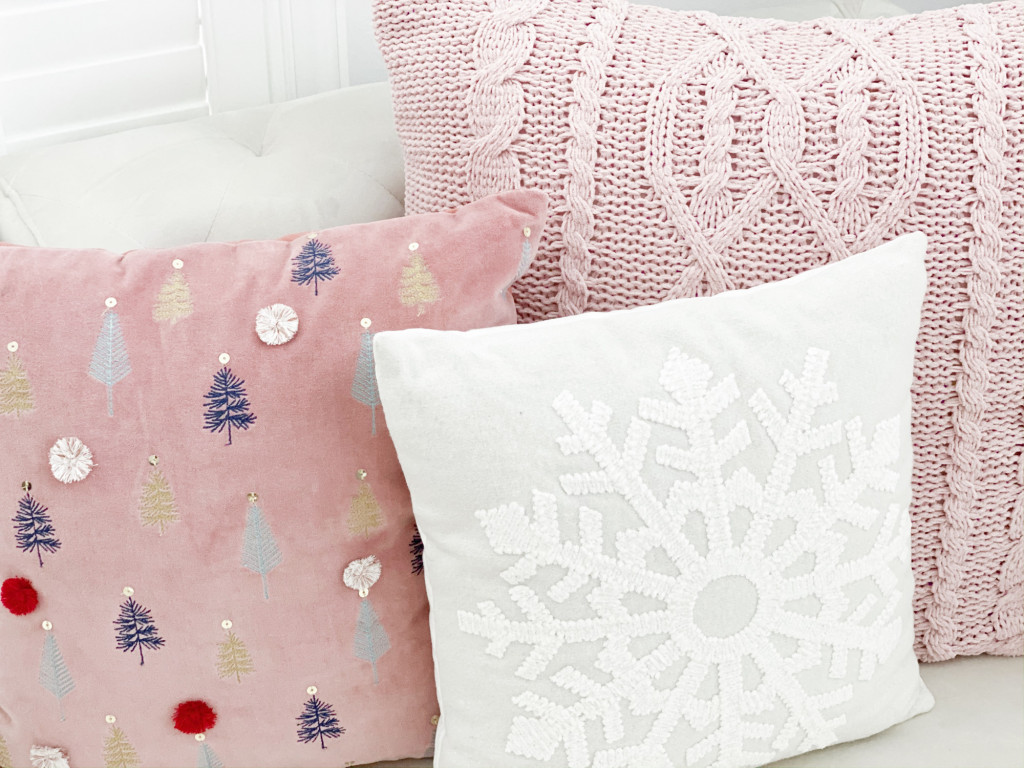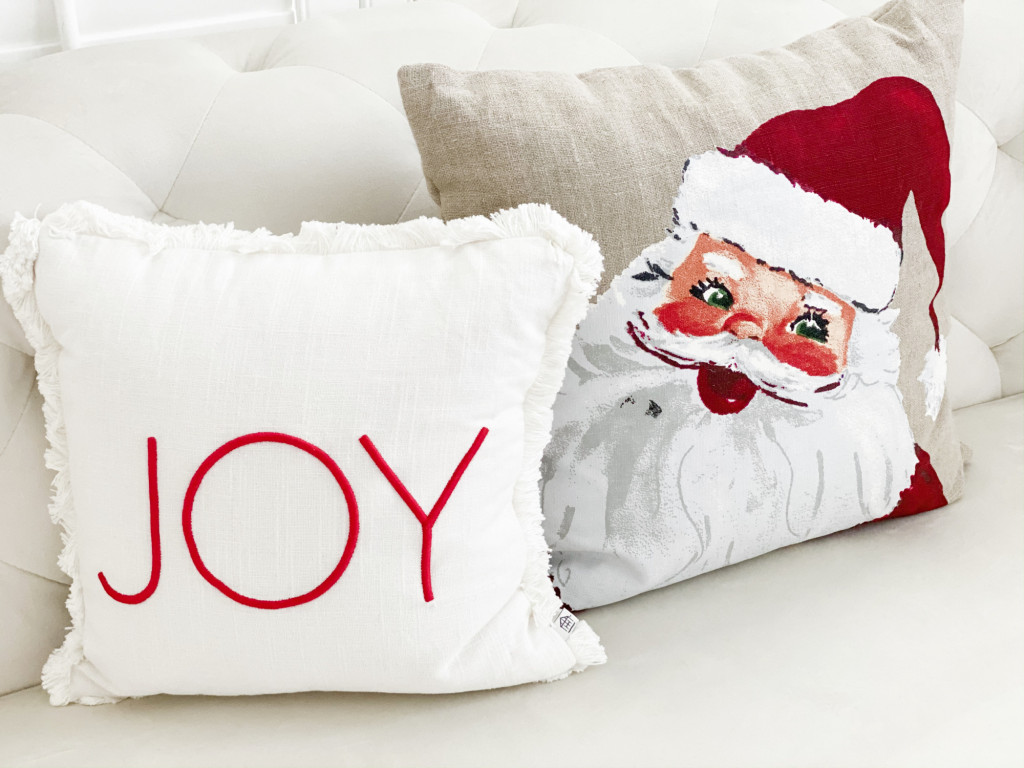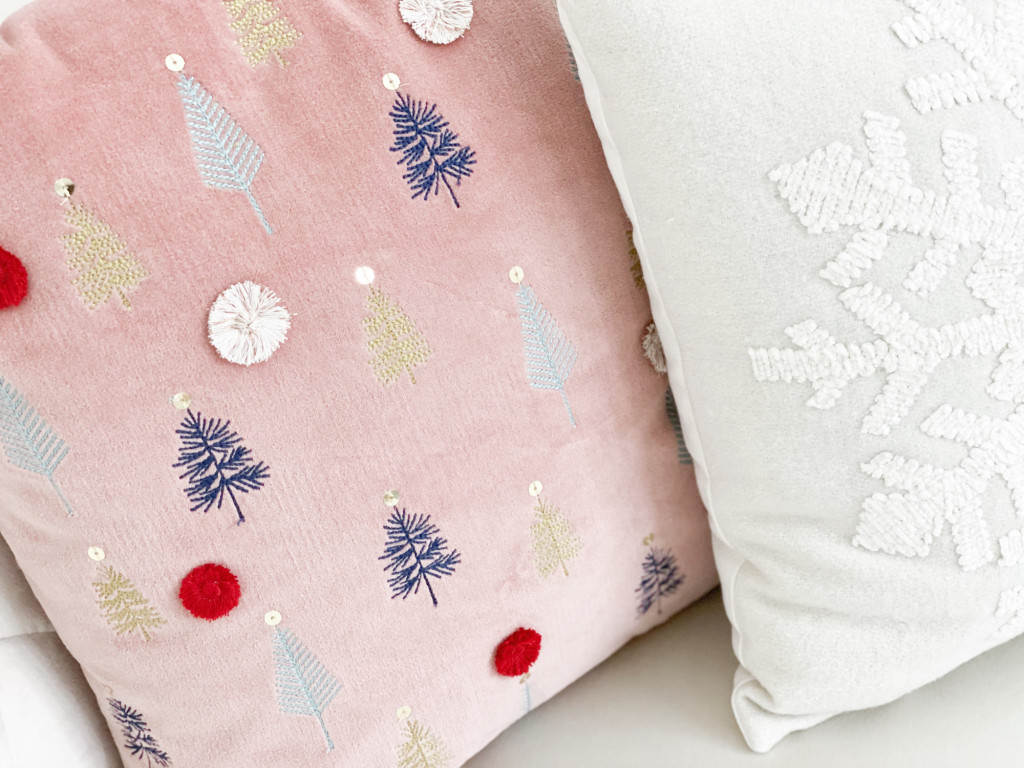 All of the other items that I used to decorate the bookshelves, like the garland, bottle brush trees, and mini houses, are linked in the images below. All of those items are so affordable, ranging from $3 – $25! Everything is still in stock & can be shipped directly to your house. Sign me up for any chance to stay away from stores this time of year! You can shop by clicking on any of the "pink links" OR by clicking on the images below! Feel free to reach out here, through email (lauraannmonello@gmail.com), or on Instagram (laura.monello) should you have any questions about these products!
Happy Shopping! It's so good to be BACK! xo
View Post