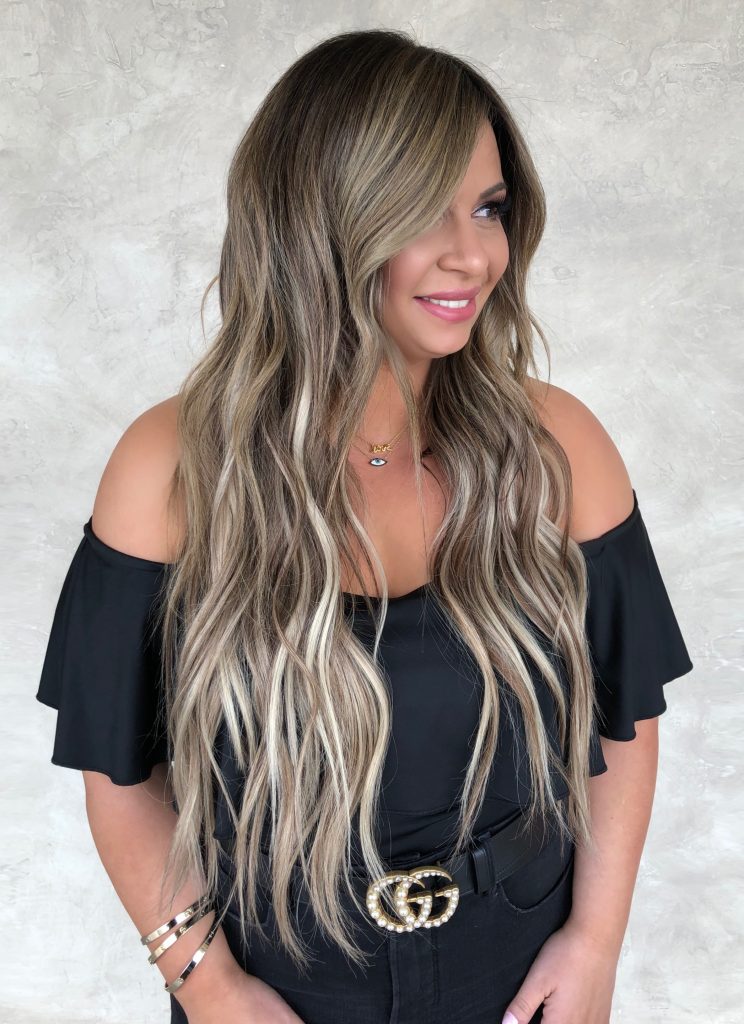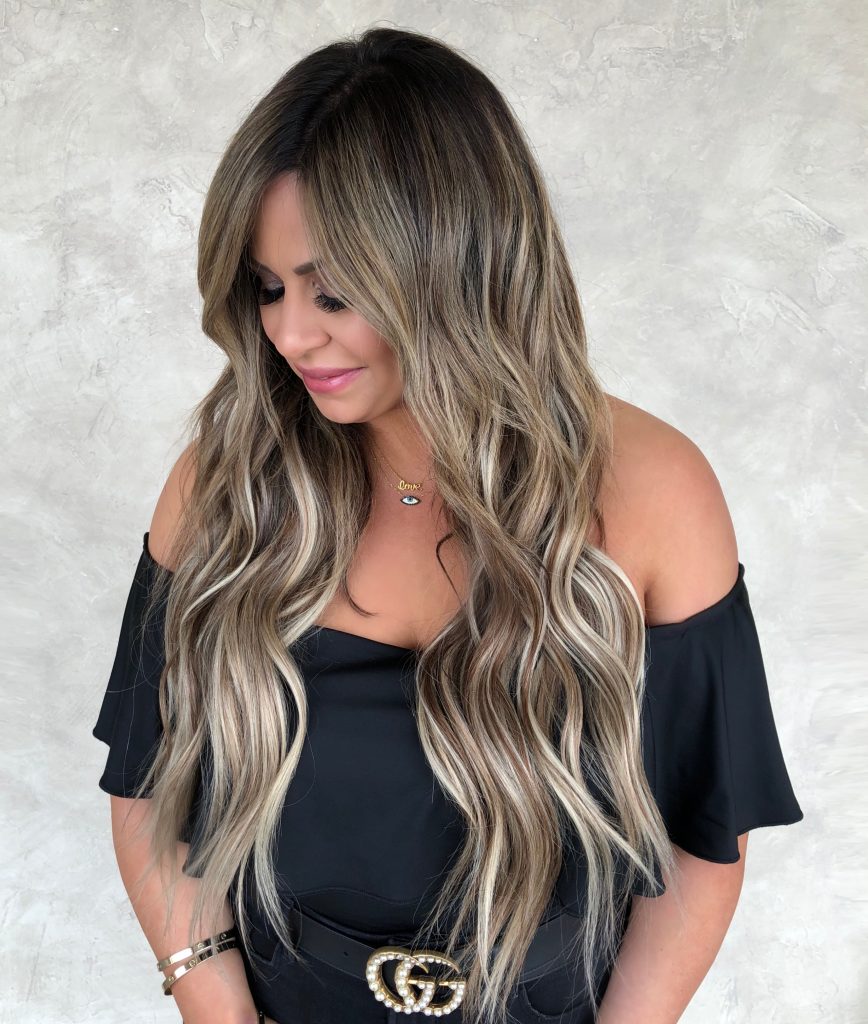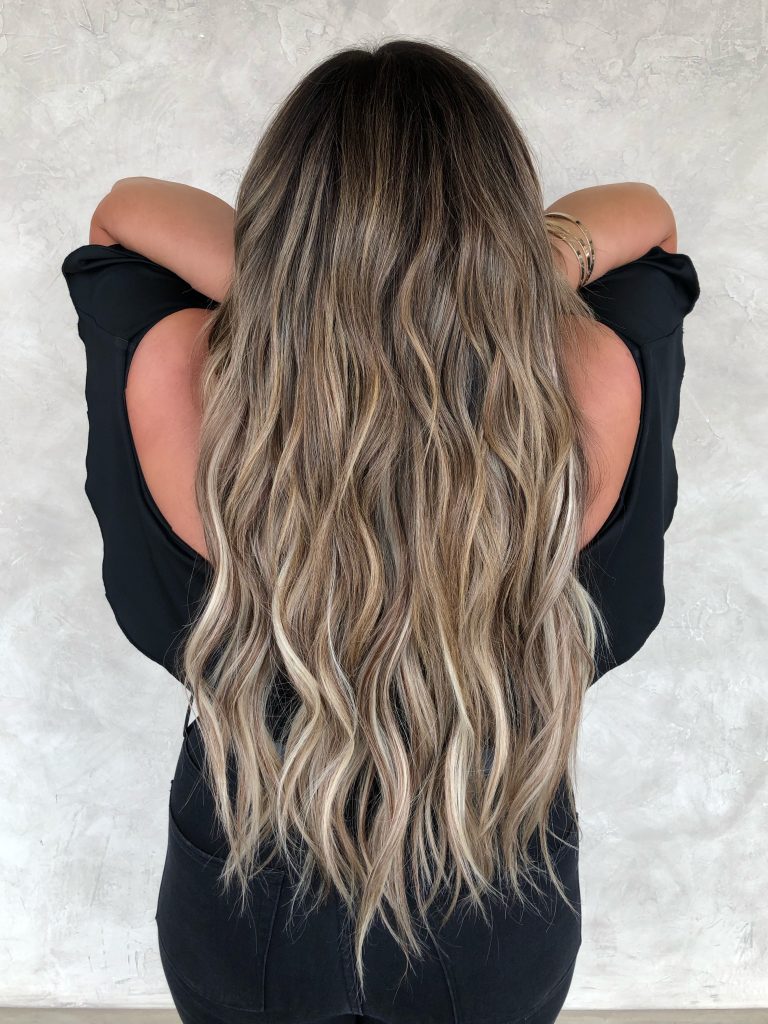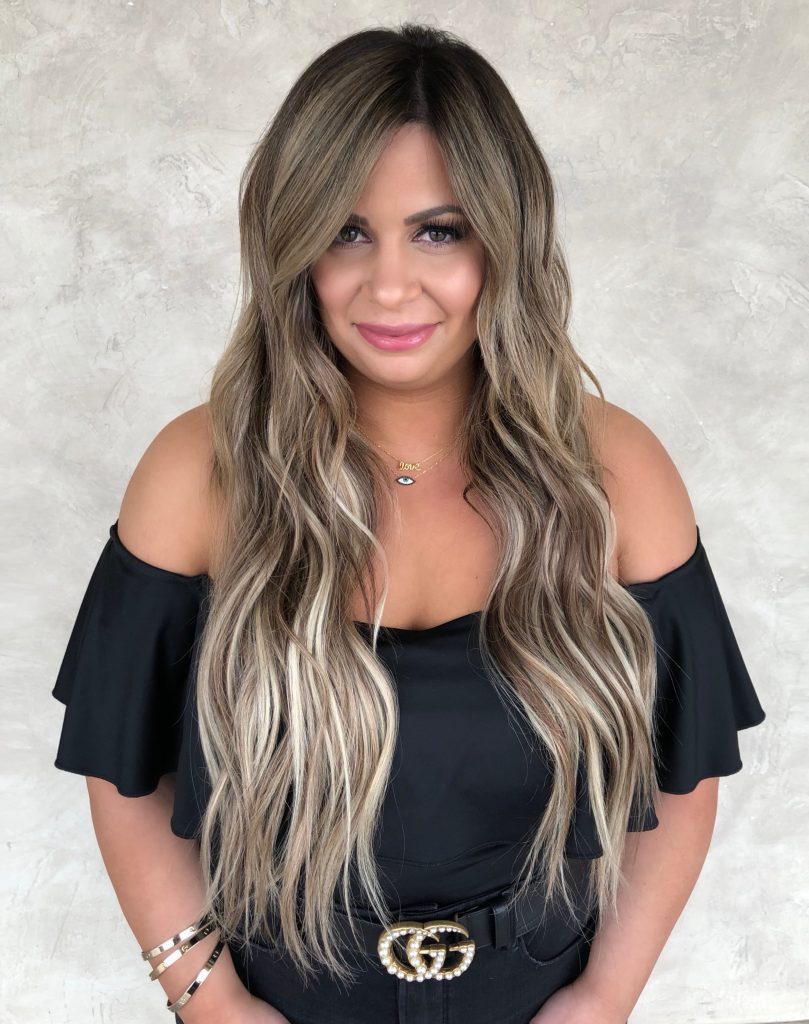 I get so many questions about my hair, what kind of extensions I have, where I go, and how often. I was lucky enough to stumble across Chrissy on Instagram, who owns Habit Salon in Gilbert, Arizona. I followed her work for over a year, and always, always wanted to go. As most of you know, I'm in New Jersey, so that would mean a really long trip just for hair. But one day, I pulled the trigger and called! I got all of the information I needed, sent my deposit, and was in Chrissy's chair three weeks later.
When I first started going to Chrissy in December of 2017, my hair was dark, short, and very layered. I had permanent hair color, that always lifted so brassy whenever I tried to go lighter. When I was done that first day, I was so happy! She completely transformed my hair with her own line of extensions, called Habit Hand Tied, and her expertise in color correction and "baby-lighting," (her version of highlighting). Over the last year and a half, and eight trips later, I've gone lighter and darker a few times, but I finally accomplished my goal color that blends so well. It's a PROCESS, and doesn't all happen in one appointment. They have a very specific way of doing things, and continue to perfect their craft every time I'm lucky enough to see them.
I travel to Chrissy every 8-10 weeks, but love the break from my day to day, and absolutely adore Arizona. Some people would think that extensions are so much more work, and they definitely can be if you don't take care of them correctly. But I find they make my life so much easier. I only wash my hair two to three times a week, and only have to touch up my waves a little in-between washes. I've never been a dry shampoo girl, but I know that works for a lot of Chrissy's clients and even friends of mine. Honestly, blow drying takes the most time, but if done correctly, can save you so much time until your next wash. With Habit Hand Tied Extensions and the method they use, they lay so flat to your head, that you can't see them, and eventually can't even feel them. They "smudge" your root, so when you're wearing your hair up or the wind blows, you cannot see anything at all!
I linked all of the products I use below. If there's anything you take away from this, whether you have extensions or not, those wet brushes are the game changers of all games changers! I absolutely could not live without them. That curling iron and beach wave spray, and hair oil are also on the top of that list. If you have any questions, feel free to ask! XO
SHAMPOO & CONDITIONER: Biolage, Matrix Hydrating (Shampoo) /Biolage, Matrix Hydrating (Conditioner)
HAIR DRYER: BaByliss Pro Nano Titanium Mid Size
FLAT IRON: BaByliss Pro Nano Titanium 1.5-Inch Ionic Flat Iron
CURLING IRON: BaBylissPRO Nano Titanium 1 ¼"
WET BRUSHES: Wet Brush & Wet Brush Speed Dry Brush
DRYING BRUSH: Olivia Garden Ceramic+Ion Speed XL Round Thermal Brush 2 1/8"
also Olivia Garden Ceramic+Ion Speed XL Round Thermal Brush 1 3/4″ (for shorter hair)
PARTING COMB: Harry Josh Pro Tools Carbon Tail Comb
HAIRSPRAY: Tresemme, TRES Two Extra Hold Hair Spray
TEXTURE SPRAY: Oribe Dry Texturizing Spray
WAVE SPRAY: Oribe Apres Beach Wave & Shine Spray
HAIR OIL: Joico K-Pak Color Therapy Restorative Styling Oil